Sports Signage
For sports signage, Excel Signs are the winning team
Creative design and raised brand awareness is as formidable a force upfront as the likes of Aguero, Messi, and Rooney. Whether your average gate is 500 or 75,000 with millions watching worldwide, Excel Signs are at the top of their game in relation to sports signage.
From the National League North to the English Premier League, our sports signage includes Toblerone signs, Spyder signs, perimeter boards, and full window graphics. We produce all types of sports signage for sports events, such as football, rugby, motor racing, and athletics. This has included projects for the following sports events seen below.
FIFA World Cups
Football at the highest of echelons demand world class solutions. With millions of people watching on TV or on the internet, nothing but the best is good enough. We at Excel Signs fully understand this, with our work seen by countless viewers (whilst watching their favourite stars for ninety minutes).
European Professional Club Rugby
Excel Signs can tackle any venue from Twickenham to the A.J Bell Stadium. Our perimeter signs and Toblerone signs have surrounded each try line in EPCR competitions. From the Heineken Cup to the Challenge/Champions Cup, they can stand up to the toughest of manoeuvres.
Cricket World Cup
Our work has been seen in the world's cricket grounds from The Lords to Old Trafford and The Oval. Excel Signs' sports signage have flanked many a boundary or graced many a private box. They have also been seen during the Cricket World Cup, where we hope to do the 2019 competition (which is hosted by England).
IAAF World Athletics Championships
Since the start, Excel Signs has always been first off the blocks with its gold medal winning approach to sports signage. Our Toblerone signs and perimeter boards have graced athletics stadia throughout Europe. There's a chance you'll see our signs at next year's IAAF World Athletics Championships at the Olympic Stadium in London.

Heineken Cups and Challenge/Champions Cups for EPCR

Paralympics World Cup – Manchester
English Test and County Cricket
English Rugby League, Super-League and Co-Op League

UKA Aviva/Norwich Union/Sainsbury's Indoor and Outdoor Athletics
We are also the current RFL official sign company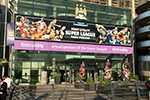 Full Size Athlete Cut Outs
Press interview/conference Backdrops
World Cup or Lancashire Senior Cup…
We can produce from full football grounds to local sporting events. A very popular item we sell for many events are our toblerone signs, which are free standing signs and are ideal for indoor and outdoor events and are an ideal solution for short term. Our toblerones are made from high quality 8mm correx.
Why choose us?
Our prices are extremely competitive and we have an excellent turnaround capability. We have a vast range of sports signs with site visits available. From there, we shall discuss your requirements and accommodate a wide range of budgets.
In addition to our production services, we have an in-house design team who will provide artwork for approval. A full fitting service, using our excellent team of sign erectors, is also available.
If you're looking for a winning team in terms of sports signage, look no further than Excel Signs. Call us on 01706 244450 or fill in our quick reply form below. We shall get back to you very soon.